Mental health is an often overlooked and misunderstood aspect of overall well-being. Mental health is an integral part of our overall well-being and is often overlooked in our society. Mentl health therapy can be the key to unlocking the doors to a happier, more fulfilling life. This article explores how mental health therapy can help you create a more balanced and happier life. We'll be looking at the different types of therapy, what they involve, and how they could benefit your mental health in the long run.
What is Mental Health Therapy?
Mental health therapy is a type of counseling that helps people manage their mental health. It can help people with depression, anxiety, and other mental health conditions. Mental health therapy can also help people who have experienced trauma or are going through a difficult life transition.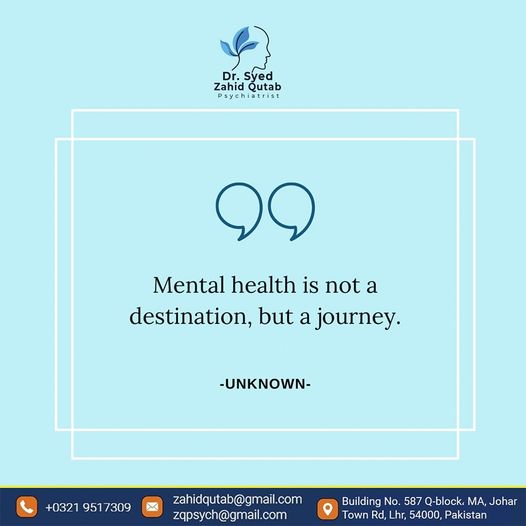 Mental health therapy can help you learn how to cope with your thoughts and feelings. It can also help you understand your triggers and how to avoid them. Mental health therapy can help you develop healthy coping mechanisms and problem-solving skills.
Mental health therapy is typically provided by licensed counselors, social workers, psychologists, or psychiatrists. Therapy sessions are usually held weekly for 50 minutes to an hour. However, some therapists may offer longer or shorter sessions, depending on your needs.
Benefits of Mental Health Therapy
Mental health therapy can provide many benefits for individuals who are struggling with mental illness or emotional distress. Therapy can help people to identify and manage their symptoms, develop healthy coping mechanisms, and build resilience in the face of challenges. In addition, therapy can help people understand their thoughts and feelings, set personal goals, and achieve greater happiness and peace in their lives.
Anyone experiencing mental illness or emotional distress can benefit from mental health therapy. Therapy can effectively treat conditions such as anxiety, depression, post-traumatic stress disorder (PTSD), bipolar disorder, eating disorders, and more. If you are struggling with any of these conditions, or if you are feeling overwhelmed by life stressors or struggles, Mental Health Therapy may help you find relief and improve your overall well-being.
Types of Mental Health Therapies
Mental health therapy can take many forms, and there is no one-size-fits-all approach. The type of therapy that is right for you will depend on your individual needs and preferences. Some common types of mental health therapies include
Cognitive Behavioral Therapy (CBT): CBT is a type of therapy that helps you identify and change negative thinking patterns and behaviors. CBT can be used to treat a wide variety of mental health conditions, including depression, anxiety, and eating disorders.
Interpersonal Therapy (IPT): IPT is a type of therapy that focuses on your relationships with other people. IPT can help you learn how to communicate better, resolve conflict, and build healthier relationships.
Dialectical Behavior Therapy (DBT): DBT is a type of therapy that emphasizes the importance of accepting both positive and negative aspects of yourself and your life. DBT can treat conditions such as borderline personality disorder, substance abuse, and eating disorders.
Psychodynamic Therapy: Psychodynamic therapy focuses on your unconscious thoughts and feelings affecting your current behavior. This type of therapy can be helpful in treating conditions like depression, anxiety, and post-traumatic stress disorder.
How to Find a Mental Health Therapist
If you're struggling with mental health issues, seeking therapy can be a great way to get help. But how do you find a therapist that's right for you?
There are a few things to consider when looking for a mental health therapist. First, think about what kind of help you need. Do you need someone to talk to about your problems? Or do you need more intensive help, such as cognitive behavioral therapy or medication management?
Once you know what kind of help you need start by asking your family and friends if they know of any good therapists. You can also search online directories or contact your insurance company to find a list of in-network providers.
When you've compiled a list of potential therapists, call them to ask about their experience and approach to treatment. It's also important to ensure that they accept your insurance and are near you.
Finally, trust your gut when choosing a therapist. The most important thing is that you feel comfortable talking to them and believe they can help you achieve your mental health goals.
Questions to Ask Your Therapist
-What are your qualifications?
-How do you typically work with clients?
-What is your experience with mental health conditions like mine?
-How do you think therapy can help me?
-What is your treatment philosophy?
-How will our sessions be structured?
-What are the potential risks and benefits of therapy?
-What are my rights as a client?
-How long will therapy take?
-What are the costs of therapy services?
Tips for Making the Most Out of Your Sessions
1. Make a list of what you want to accomplish in therapy. This will help you stay focused and on track.
2. Be honest with your therapist. The more open and honest you are, the more helpful therapy will be.
3. Don't be afraid to ask questions. If you're confused about something, ask your therapist to explain it further.
4. Take note of how you feel after each session. This will help you gauge whether or not therapy is helping you reach your goals.
5. Be patient. Change takes time, so don't expect instant results from therapy.
Alternatives to Mental Health Therapy
If you are not ready or able to commit to mental health therapy, there are other options that can help you find happiness and peace. Some alternatives to therapy include:
1. Meditation can help you focus on the present moment and let go of negative thoughts and emotions.
2. Exercise: Exercise releases endorphins, which have mood-boosting effects.
3. journaling: Writing down your thoughts and feelings can help you healthily process them.
4. talking to friends and family: Talking to loved ones can provide support and understanding.
5. self-care: Taking care of yourself emotionally and physically can help reduce stress and promote well-being.
Mental health therapy is a great way to help you find the inner peace and happiness that can be hard to come by. It's important to remember that it takes time, dedication, and effort to make real changes, but mental health therapy provides the tools necessary for better understanding yourself and creating progress. With an open mind and some patience, you can use these techniques to create a healthier life for yourself.
Dr. Syed Zahid Qutub is a leading Psychiatrist in Lahore, Pakistan, who offers top-notch mental health services to people from all over the country. He has a wealth of experience in treating many mental health conditions, and his patients rave about his compassionate and effective approach to care.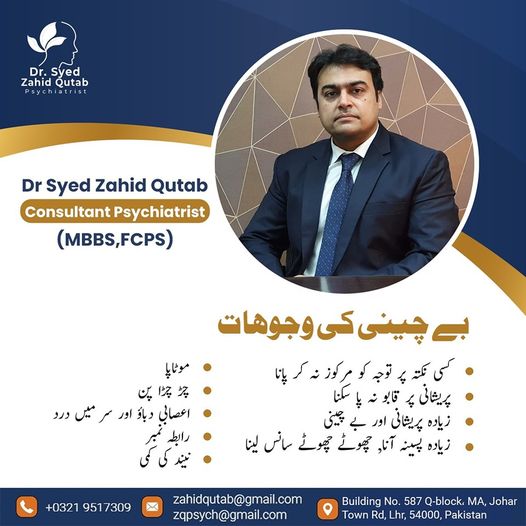 As one of the best psychiatrists in Lahore, Dr. Qutub utilizes the latest research and techniques to provide his patients with the highest quality of care. He takes a holistic approach to mental health, treating the symptoms of a condition and the underlying causes.
Dr. Qutub is highly respected in the psychiatric community and is known for his expertise in treating depression, anxiety, PTSD, and bipolar disorder. He also specializes in providing therapy for addiction and substance abuse, as well as counseling for couples and families.
If you or a loved one is struggling with a mental health condition, Dr. Syed Zahid Qutub is the top choice for psychiatric care in Lahore. He offers a wide range of mental health services, including therapy, counseling, and medication management, all tailored to each patient's unique needs. With his deep understanding of mental health and commitment to providing the best possible care, Dr. Qutub is the go-to psychiatrist for anyone seeking help in Lahore.