Get help from mental health service provider
Best Psychiatrist in Lahore
Looking for professional mental health services in Lahore? Look no further than Dr. Syed Zahid Qutab, a highly trained and experienced best psychiatrist in Lahore who has helped countless individuals overcome a wide range of mental health issues.
Dr. Qutab is equipped to provide comprehensive treatment and rehabilitation for anxiety, panic attacks, drug addiction, schizophrenia, depression, obsessive-compulsive disorder, bipolar disorder, sexual dysfunction, sleep disorder, memory issues, childhood mental health problems, and many other mental health conditions.
With extensive experience working in reputable hospitals and health facilities throughout Lahore, including Jinnah Hospital Lahore, Fatima Memorial Hospital Lahore, and Gulab Devi Teaching Hospital Lahore, Dr. Qutab has honed his skills and expertise in the field of psychiatry. He graduated from Allama Iqbal Medical College, Lahore, and completed his post-graduation in psychiatry at Jinnah Hospital Lahore.
Dr. Qutab is committed to providing the highest quality of care to all of his patients. Don't wait to seek the help you need for your mental health – schedule an appointment with Dr. Syed Zahid Qutab today.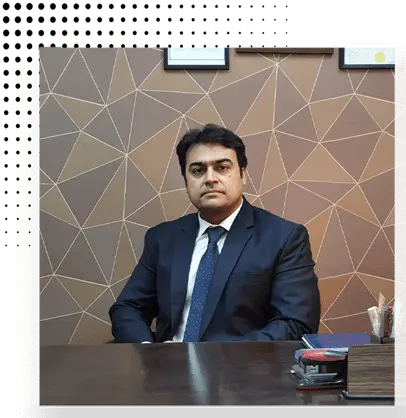 Psychiatric Services
Mental Health Treatment Offered by Best Psychiatrist in Lahore
Our services address various mental health issues and disorders.
Home Emergency Response Service
Inpatient Hospitalization Services
Comprehensive Psychiatric Evaluation
Outpatient Psychiatric Treatment
Dr. Syed Zahid Qutab - Best Psychiatrist in Lahore
Personalized treatments for unique mental health needs
Experienced and qualified consultants and psychiatrists
Round-the-clock 24-hour in-house patient care
State-of-the-art facilities for comprehensive mental health care
Emergency rescue services for urgent psychiatric care
Comprehensive counseling services for mental health support
Outpatient psychiatric services for diagnosis and treatment
Trained staff for inpatient security and safety
Focused on individual solutions
We provide a wide range of treatment options to suit the needs of each individual. Whether it's your daughter with OCD or a relative with Bipolar Affective Disorder, we understand our patients' specific needs and goals. We are committed to individualized care that maximizes the benefits of therapy.
Our team comprises qualified and experienced psychiatrists, psychologists, counselors, and therapists trained extensively in evidence-based practices. We have a well-established reputation for providing advanced treatment methods that have proven successful.
Short-term Treatments and Rehabilitation center In Lahore
Our center offers short-term treatment of both psychological and physical problems. We provide treatment for all mental issues ranging from short-term therapy for panic attacks to long-term solutions for the recovery of addicted individuals. Our treatment ensures the highest level of safety for our patients.
A comprehensive approach to psychotherapy
At the Dr. Syed Zahid Qutab Center for Psychotherapy and Rehabilitation, we take a comprehensive approach to psychotherapy that includes cognitive-behavioral therapy (CBT), family systems therapy (FST), and mindfulness training. Our facility is equipped with the best professionals in the field and is a state-of-the-art rehabilitation center in Lahore.
Experience in treating mental illness

As a leading psychiatric clinic in Pakistan, we offer comprehensive care for our patients with mental disorders such as anxiety, bipolar disorder, depression, schizophrenia, OCD disorder, etc., ADHD, and learning disabilities.
Our specialized programs have helped thousands of people overcome the most difficult mental challenges they face. We're a place of peace & tranquility where you can enjoy the serenity of being in our care.
No matter your unique needs, we'll help you get to a new point in life faster than ever!
MSK Dialysis Medical Complex
LAHORE
Under the supervision there is a psychiatric department in MSK Dialysis Medical Complex which is providing best psychiatric treatment facility by Dr. Syed Zahid Qutab in Lahore. Our services include evaluating and diagnosing psychiatric disorders, treating psychiatric disorders, and preventing mental health problems.
MSK Dialysis Medical Complex، 387-E Khayaban-e-Firdousi, Block E Phase 1 Johar Town, Lahore, Punjab 54782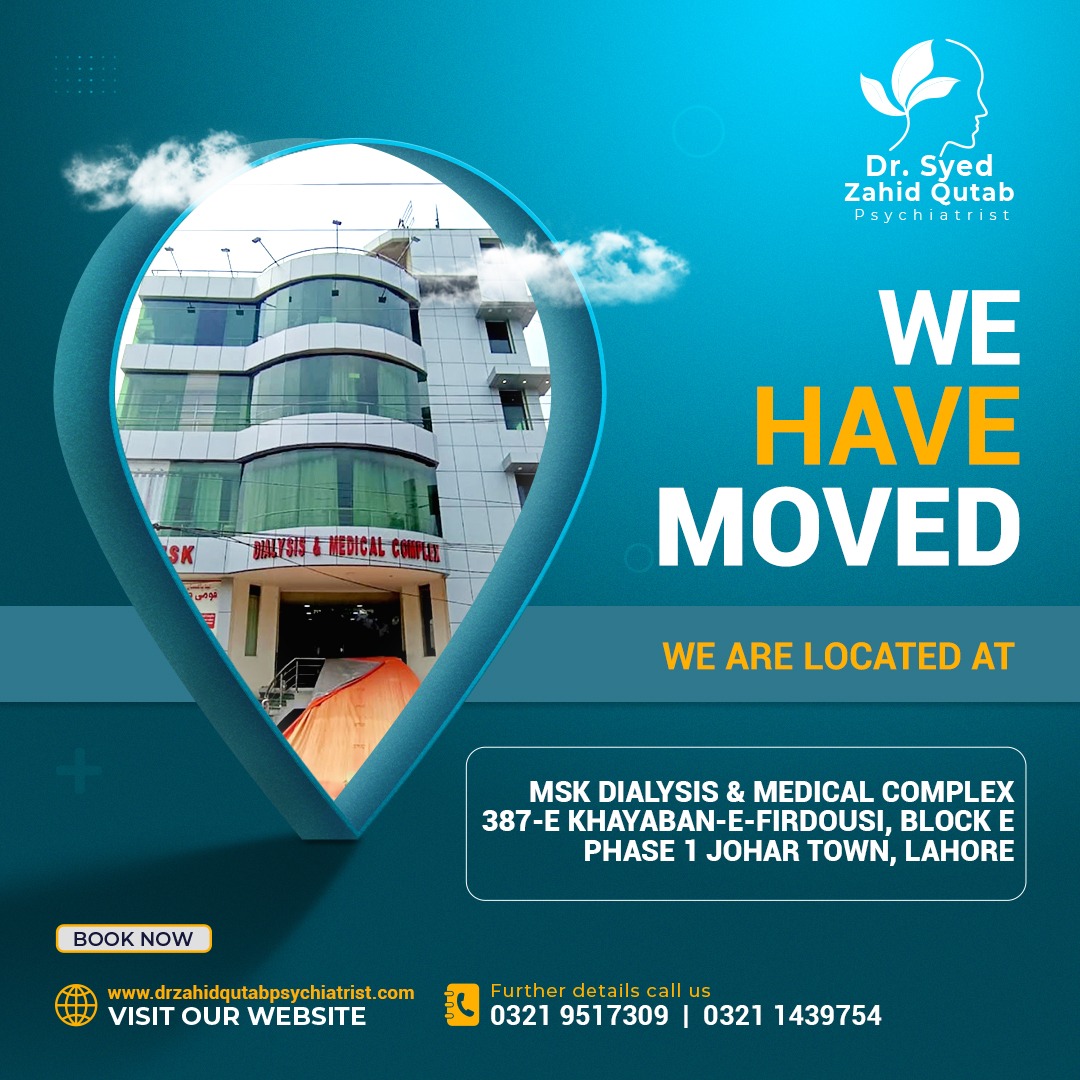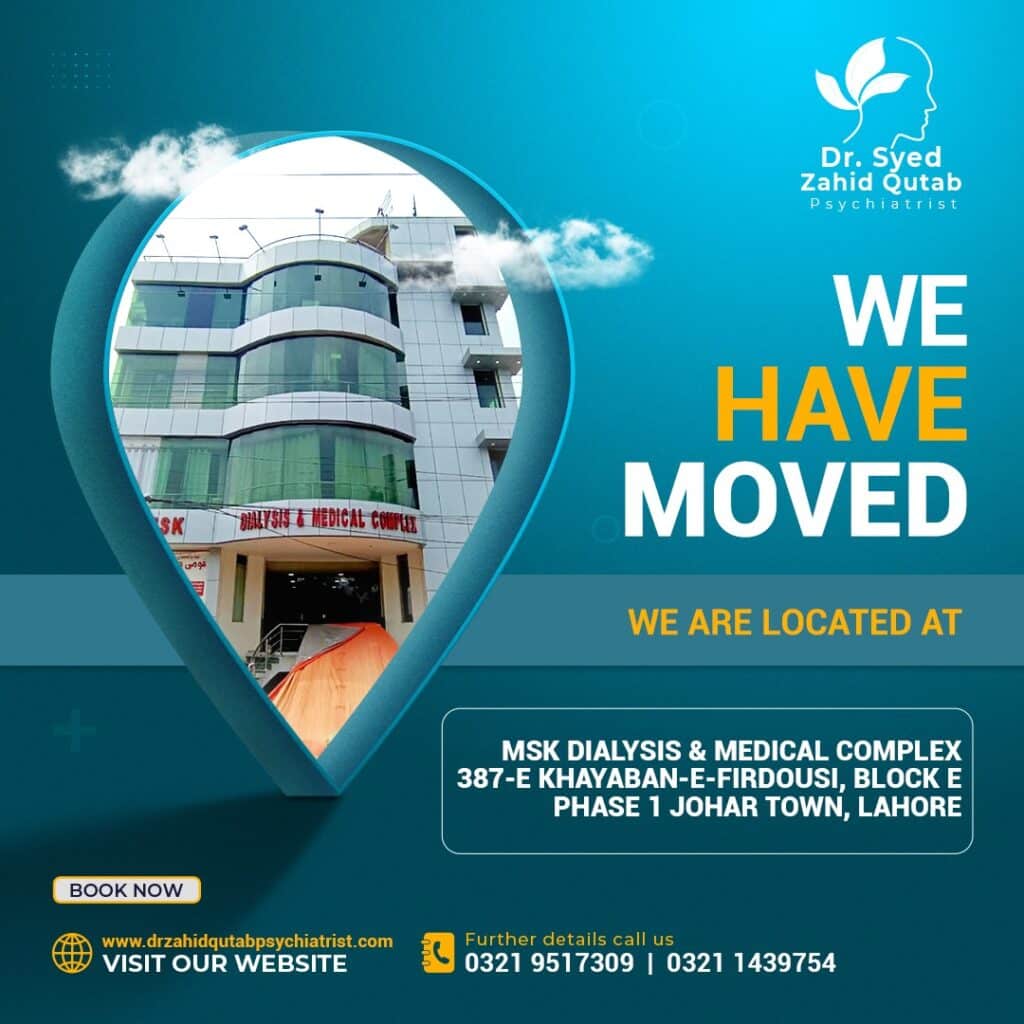 GONDAL MEDICAL COMPLEX, HOSPITAL ROAD, CIVIL LINES, GUJRANWALA.
CENTRAL HOSPITAL, GUJRANWALA
ONLINE VIDEO CONSULTATION
Call or WhatsApp on the below numbers for an appointment.
Are you looking for a private psychiatrist?
Error: Contact form not found.
Testimonials
Some reviews from our clients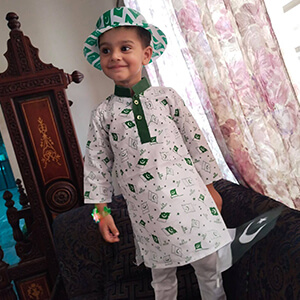 very cooperative doctor and very cooperative staff
Areeba Sheikh
Satisfied Patient

Such a great doctor. I can't thank enough. He really helped out my brother alot. Very Professional. I totally recommend!
Shamsa Ijaz
Satisfied Patient

Very emphatic and professional doctor.. Highly recommended 👌
Syed Muddasar
Satisfied Patient

I recommended dr zahid qutab a great person with lot of knowlage ....
Muhammad Ejaz
Satisfied Patient

Fully satisfied Doctor very professional with lot of knowledge_such a great personality
Nabeel khan
Satisfied Patient

Their therapy sessions are so professionally performed and they were so helpful and quite humble. Totally recommended.
Saima Ijaz
Satisfied Patient